Poster Alert: Shyamalan's "The Happening"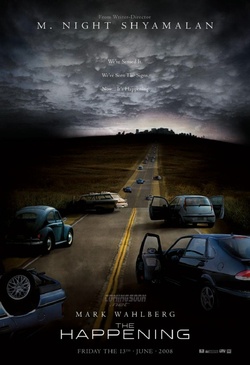 Admit it. M. Night Shyamalan peaked early. Nothing he's done has compared to his breakthrough The Sixth Sense although everyone's hoping that will change when his latest, The Happening, hits theaters on June 13, 2008—a Friday, the 13th, naturally enough. The tag line on the new poster reads, "We've sensed it. We've seen the signs. Now, it's happening." That's practically a retrospective of his career highlights…if all goes as planned.
While you might not be able to deduce it from the imagery of abandoned cars under storm clouds stretching to the horizon, The Happening concerns an environmental disaster that threatens the whole human race. Since the cast features Betty Buckley, Zooey Deschanel, John Leguizamo, and Mark Wahlberg, humanity is doomed to lose some fairly pretty people unless something drastic is done. Where's Al Gore when you need him?
Read More