Plot Details Leaked for Latest "Terminator"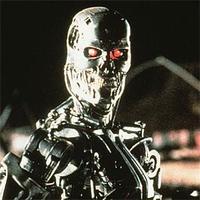 The fourth Terminator film, officially titled Terminator Salvation: The Future Begins has some things going for it and some things going against it. On the pro side, it's the start of a new trilogy, stars Christian Bale as John Connor, and takes place in the nuclear post-apocalypse. On the con, it has a title that sounds like it was achieved by throwing a dictionary against the wall, is being directed by a guy named "McG" and is written by the same guys who penned the pretty-okay-but-definitely-a-disappointment Terminator 3, which is a film I will only admit to liking after many drinks and is an admission immediately followed by hours of self-loathing.
Other than those pros and cons, not much is known about Terminator 4. But CHUD has posted a juicy plot synopsis of the movie, and like the hit-or-miss nature of T4 itself, there's some fist-pumpers equally mixed with eyebrow-raisers in there.
The pros: A future filled with radiation sickness, rubber-skinned T-600s, human brains in cyborg bodies, John Connor and Kyle Reese. The cons: a main protagonist named Marcus who is being described as a total dude-to-the-max Riddick character. Which misses the point entirely: The Terminator films aren't about stereotypically ass-kicking protagonists, but rather about how small and weak humanity is except for its will to survive.
The Future Begins Here [CHUD]
Read More