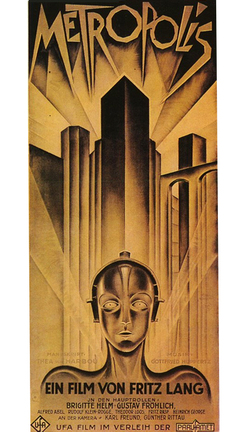 Better sit down, because this is one announcement you might not want to hear: There's going to be a remake of Metropolis. Variety reports that producer Thomas Schuehly has acquired the rights and is looking for a director to work on a new version of Fritz Lang's 1927 landmark film.
Schuehly is best known in the U.S. as the producer of Oliver Stone's mega-epic Alexander, but he actually has nearly 30 years experience in film that ranges from The Adventures of Baron Munchausen, and The Name of the Rose, to several art house films by Rainer Werner Fassbinder.
So there's reason to be hopeful. In truth, Schuehly seems to have the best motives in mind for remaking Lang's cautionary tale of a future shaken by class struggles. He told Variety, "With the overwhelming role technology plays in our daily lives, the growing gap between rich and poor, including the gradual elimination of the middle class, the story of Metropolis is a frightening reflection of our society…" Lang's Expressionist masterpiece may be rooted in the past, but the themes are hardly dated. I'm keeping my fingers crossed for this one.
Read More