Matheson's "I Am Legend" Ending Not Good Enough for Hollywood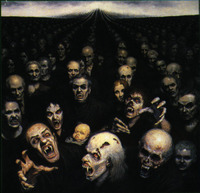 I Am Legend creeps ever closer, and because it is a film bearing the same title as one of my favorite novels of any genre, I am reasonably positive it is going to suck.
It's not just because of the casting of Will Smith, an actor I like but whom I mostly associate with shouting "Aw hell naw!" as he runs away from a slow-motion fire ball. It's not just because the previews make it clear that this isn't going to be a faithful adaptation of Richard Matheson's masterpiece, but instead a 28 Days Later cash-in with vampires. It's not just because the director is the brooding cinematic genius behind the music videos for J. Lo's "Jenny on the Block" and Avril Lavigne's "Sk8er Boi." It's not just because rumor has it that all the vampires will be accomplished with CGI. It's all of these things together.
And now, director Francis Lawrence is also claiming he changed the ending from Matheson's novel. Quoth the director: "I don't want to actually discuss the ending, just because I don't want, I want people to make up their own minds, but maybe there'll be an alternate version at some point." Confident words from a clear visionary, issued in what I can only imagine to be a high-falsetto stutter.
Oh, man. If they changed I Am Legend's ending (which is what gives the title its sense), that's just sacrilege.
Legend Ending Changed [SciFi Wire]
Read More