Lovecraft Film Gets into the Spirit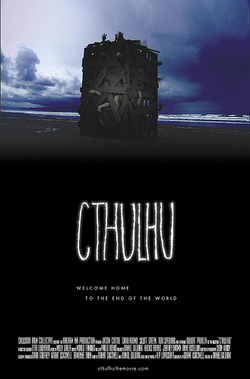 Don't get me started on the Independent Spirit Awards where horror, a genre that helped build independent cinema, is always shut out. As far as I can recall, the only genre nominations in the award's history have been Terry O'Quinn (The Stepfather) for Best Actor and The Blair Witch Project for Best First Feature. (Remarkably, that one won.) Other than that… nothing. No nominations for George Romero or David Cronenberg. Pathetic, if you ask me.
Anyway, the Spirits have been nice enough to actually acknowledge a new genre filmmaker this year by nominating Alexis Ferris for the Producer's Award for Cthulhu, an H.P. Lovecraft-inspired indie feature shot in Seattle.
The film mixes some of Lovecraft's apocalyptic Cthulhu mythology with gay themes while using Lovecraft's Shadow Over Innsmouth
as its source of inspiration. So far, the film's mainly played
the festival circuit, but a little recognition may
help it land a distribution deal. Plus, Tori Spelling's in
it. That, my friends, is all I can tell you. Congratulations to Ms. Smith and the Cthulhu team and best of
luck on your nomination. We'll be rooting for you in, uh, spirit when
the awards are handed out on February 23 on IFC.
Read More