Lon Chaney, Jr.'s Christmas Carol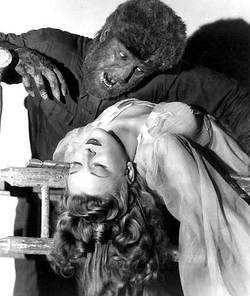 In case you haven't looked at the calendar, Xmas is under three weeks away. Trees are up, malls are packed, and holiday ditties are blasting from the radio. But there's one Christmas carol that you're unlikely to hear, even on your local college's FM station: Lon Chaney, Jr.'s cover of "Monster's Holiday."
Originally recorded by Bobby "Boris" Picket ("Monster Mash"), the quintessential Wolf Man 's recording finds Chaney singing about how Dracula, the Mummy, and Frankenstein hijack Santa's sleigh because they didn't get any gifts. I'm not going to give anything away, but let's just say it ends happily for the monsters and Santa.
Although Chaney's version never charted, his version of "Monster's Holiday" did experience a brief rediscovery via Buffalo Bop's wonderful Monster Hop CD back in '94. Original 45s of the song remain tough to come by but you can hear the full version online. To sing along, get the lyrics here.
Read More