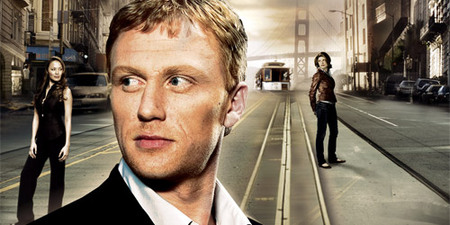 Sad news for Journeyman fans: It looks like the time-traveling adventures of Kevin McKidd, the San Francisco journalist sliding madly through time, have been put on permanent hiatus by NBC.
According to the Hollywood Reporter, the decision date for NBC to pick-up the ailing show was yesterday, Tuesday, December 11. Journeyman—despite being one of the smarter time travel shows this side of Life on Mars, with the most curiously fanatic fan base for thirteen episodes this side of Firefly—has struggled with ratings even during a season plagued by the WGA strike and a lack of new original programming.
I think this is a harbinger of things to come: Sci-fi fans are going to hurt the most from the WGA strike. Since most sci-fi television is episodic, I imagine most shows are simply never going to pick up their audiences again; other shows, like Battlestar Galactica, may simply not be considered worth finishing. I suppose the sci-fi television renaissance we were all enjoying had to end sooner, not later.
NBC Says Goodbye to Journeyman [Slice of Sci-Fi]
Read More