John Connor to Random Bloggers: "Join The Resistance!"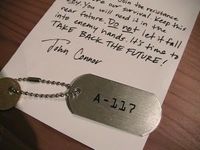 Terminator 4—more formally known in Hollywood by its through-the-looking-glass title Terminator Salvation: The Future Begins, which I think we can all safely laugh at—may not be far along in production. It may only have just signed on Christian Bale. It may not have filmed a single frame yet, but that's not going to stop the Warner Brothers marketing machine from going into overdrive.
It appears that WB has decided to promote T4 virally, by reaching out to various sci-fi bloggers, perhaps in the style of Bungie's successful "I Love Bees" Halo 2 campaign. Cynthia over at SF Universe got a mysterious letter in the mail the other day, apparently from no lesser man than savior of mankind and revolutionary against the machines, Mr. John Connor himself!
The hand-written letter (which comes with a dog tag) implores the bloggers at SF Universe to join the resistance then ends by emphatically stating that it is time to "take back the future!"
It'll be interesting to see how this viral campaign plays out. Sci-fi geeks love mysteries and conspiracies, and it looks like Terminator 4's attempt could have both.
B5 Holds The Key To The Future [SF Universe]
Read More