Is "Sweeney Todd" a Revolution or a Revival?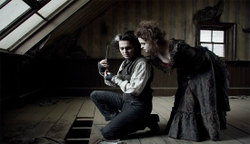 Sweeney Todd has roared into theaters, thereby setting the standard for tuneful horrors to live up to for some time to come. But does it blaze new bloody trails, or is it merely reviving a great tradition of chilling big screen musicals? Let's take a closer look at its ancestors and see how it measures up.
The story seems to start in 1973 with the British flick The Wicker Man—not officially a musical but a movie peppered with cheerful pagan tunes that kept the audience guessing as to the motives of its cult-in-residence. Then the following year, the world was hit with a one-two punch of midnight movie madness: Brian DePalma's The Phantom of the Paradise and the legendary Rocky Horror Picture Show.
While Phantom scored a triumph by merging glam-rock with low-budget horror, Rocky amassed a cult following that endures today. (Those people are NUTS!) We probably have Rocky Horror to thank for people like Tim Burton being able to do… well, whatever it is that he does. Unfortunately the wave that crested in 1975 broke in 1986 with Little Shop of Horrors , which underwhelmed audiences (though some critics gave it high praise). Perhaps if it hadn't ditched the stage version's ending—the plant wins—its horror cred would have pulled it through!
With his animated films and now Sweeney Todd, Burton is responsible for almost every speck of musical fright flicks seen since then. Dubious exceptions: Trey Parker's B-movie Cannibal! the Musical was funny but couldn't sing a lick, and 2004's at-long-last Phantom of the Opera adaptation was just a romance novel in wolf's clothing. Today, anyone who's seen Depp's razors flash and slash knows that the stage is officially set for a renaissance of horrific proportions. Will other artists rise to the occasion, or will Burton continue to do all the heavy lifting himself?In the meantime, what's your favorite music/horror combo? Take our poll!
Read More