Is "Sweeney Todd" Bloody Oscar Bait?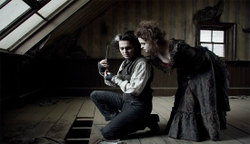 So the early word is that Sweeney Todd is brilliant… and bloody!
Tim Burton's Sweeney Todd – The Demon Barber of Fleet Street has started to screen for members of the press and the word that's coming out is one of absolute enthusiasm.
Hollywood Elsewhere says, "Sweeney Todd is a locked Best Picture contender at this stage. It's too beautifully made, too full of feeling, too exquisitely performed to shunt aside… [T]his is a masterful work. Heart-stopping, heart-lifting." The L.A. Times' Oscar section, The Envelope, calls it the best film of the year, and The NY Times' Oscar bloggers say, "This film displays a director in his prime, with a fully realized execution of one of Broadway's darkest fables."
However…
Though praise for Sweeney Todd is unbridled, all of the reviewers can't help but point out the same thing: the blood. There's lots of it; rivers of it – apparently, so much so that reviewers seem to think that Oscar voters, who prefer violent movies to have "serious" themes, will not vote for it. For some movie-goers, a war movie like Platoon is OK, but a horror movie wherein victims have their throats slit and are turned into meat pies (don't worry, I'm not really giving anything way) is not.
While I haven't seen the film (I'm hoping to very soon), I'm all for Tim Burton getting an Oscar. He has an excellent track record – and if a violent horror musical can win Best Picture, I can't imagine it getting any better than that.
Read More