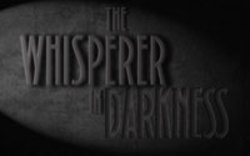 You're used to being utterly disappointed when your favorite stories finally make it to the big screen, but what are you going to do? Start your own production company and adapt them yourself?
That's exactly what the H.P. Lovecraft Historical Society has done. In 2005's 47-minute silent film The Call of Cthulhu, filmmakers Sean Branney and Andrew Leman used 1920s techniques to portray slobbering cult-members and squid-headed Old Ones alike. The final product was as ambitious and obsessive as they come, and provided us with an authentic taste of the Cthulhu mythos before the whole thing became Tori Spelling-ized in 2006.
Next in their lineup is The Whisperer in Darkness, a later Lovecraft tale about a professor whose skepticism erodes as he investigates mysterious sightings that may or may not be connected to a race of monstrous otherworldly beings.
The trailer reveals that Branney and Leman are silent no longer, this time invoking the sights and sounds of 1930s fright flicks: A raspy voice crooning out of a phonograph device creates a palpable sense of menace. And I think I speak for everyone when I say, "Oh God… what is that THING??" While there's no word yet on when Whisperer will be complete, it's inspiring to imagine the effort (and credit card debt) involved in bringing one's own version of a classic to life. It's a demonstration of what the Peter Jacksons of the world have to learn the hard way: It's better to have a nerd army marching behind you than rallying against you.
Read More