Horror Surfer: Happy Horror Year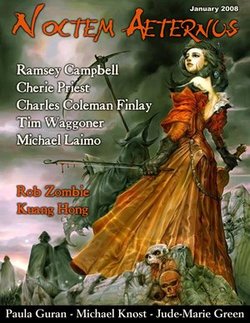 Rabid Doll previews what's next with a "2008 Horror Movie Round-up" while Shock Till You Drop reviews the "Best and Worst of 2007 ."
Some UK residents are living in Hitchcock's The Birds. Nottingham's Evening Post reports a plague of pigeons in Clifton.
Monsterfest insomniacs can get 50 horror movies for just $19.95. That's right! $19.95. But you'll have to catch the late-night "only on TV" offer first. If you don't, you can go to www.horrormovies.com and get the Horror Classics 50 MoviePack for $24.88. What's an extra $5 for 50 movies?
Noctem Aeternus, a new magazine featuring fiction for the horror fan, will be available January 1, 2008. Start the new year right: Read a short story by Ramsey Campbell or an interview with Rob Zombie, both included in the first issue.
It was a good year for fright flicks in Indonesia. The country produced about 50 feature-length films and, according to The Jakarta Post, 21 of them were horror films.
Read More