Holiday Special: Cheap Thrills on DVD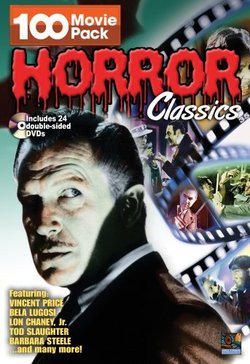 When it drops next week, Rob Zombie's Halloween DVD will surely move quickly off the sales racks but for around the same price or less, you can get some terrific DVD multipacks that make for much more interesting gifts.

100 Horror Classics Movie Pack: A hundred horror movies on 24 double-sided DVDs will keep you up to your neck in blood for months. Highlights include The Cabinet of Dr. Caligari, The Wasp Woman and, for the holidays, Don't Open Till Christmas in which a Santa outfit guarantees death. For about $25, you can't go wrong.

The Very Best of One Step Beyond: One Step Beyond was a black-and-white TV show akin to The Twilight Zone. For under $9, you get 50 of the 96 episodes remastered on four DVDs. All are purportedly based on real-life incidents. Host John Newland introduces segments starring everyone from Warren Beatty to Elizabeth Montgomery.

Decrepit Crypt of Nightmares:
For the B-Movie fan, Pendulum Pictures offers 50 movies on twelve
DVDs. If you love camp that's way over the top, this is the compilation
for you. The titles alone are priceless: Blood Sucking Babes From Burbank, Prehistoric Bimbos in Armageddon City, Suburban Sasquatch, etc.

Nightmare Worlds:
These 50 movies (on twelve DVDs for under $17) are all about monsters and
often have a sci-fi theme. Highlights include Rock Hudson and (weirdly)
Dr. Joyce Brothers in Embryo, Buster Crabbe in Purple Death from Outer Space and How Awful about Alan with Anthony Perkins. Don't forget the kitschy Werewolf Woman with Annik Borel. It's a sex-filled, rip-your-throat-out romp.
Read More