Harryhausen Hits DVD, Talks With Tim Burton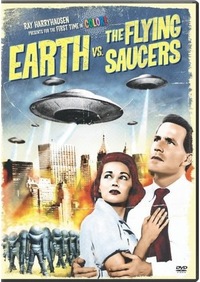 As a child, I was always fascinated by stop-motion animation—to this day, King Kong is my favorite movie. (No other version than the 1933 one exists in my own inner universe, so speak not De Laurentiis or Jackson's name.) In truth, I spent the weekend nights of my childhood eating M&Ms and watching any film I could get my hands on that featured the technique. For me, an entire genre of '50s and '60s fantasy films are defined by how their monsters are animated: For all CGI's realism, it lacks the charm and personality of a creature created a frame at a time by a sculptor's hand. In the '50s and '60s, that hand was always the same, and in my mind, it is large and godlike: It's the hand of Ray Harryhausen.
Harryhausen fans like me will be blessed twice over during the coming three weeks: Sony has announced the DVD release of two remastered classics: Earth Vs. Flying Saucers and It Came From Beneath The Sea . Crystal clear editions of two of Harryhausen's most seminal films are worth the price of admission alone, but it appears both DVDs feature an interview between Tim Burton and Harryhausen thereby doubling their value. I may not care much for Burton as an overstylized director, but there's no doubt in my mind that he's exactly the sort of guy who would have some fascinating questions for the greatest living master of the stop-motion form.
Here's the only problem: Both films are advertised as being "in color." That's worrying, but I'm assuming, DVDs being what they are, that this means both a color version and a black and white version will be included on the same disc. Expect to see me back here in a few weeks ranting and raving if that's not the case.
2 More Harryhausen Classics Hit DVD [SF Universe]
Read More