Halloween Producers Hurt-ing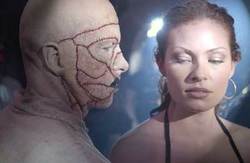 According to Variety today, the producers of Rob Zombie's Halloween have a new scare in mind. It's called Hurt. Is there possible torture porn theme within? Though that's probable, it's not exactly clear from the trade publication's snippet which says, "Project revolves around a group of estranged best friends who are
reunited after another commits suicide. Gathering ends up becoming a
bloodbath because meeting was set up as retribution.
"Trancas' Malek Akkad, Left Hook's Justin Hogan and Yellowsand's Marc Lazard will produce the pic.
Trancas produced Rob Zombie's remake of Halloween, which scared up $71 million worldwide for Dimension Films and helped reignite interest in the ongoing franchise." While what's described as plot for Hurt is a tried and true theme bordering on cliche, let's hope that the writers, Anthony Grieco and Jeff Drongowski, have a few potent twists and turns in mind.
Although I could find no history on Drongowski, here's what I found out about Greico, who has taughtat the Art Institute of Vancouver: "Grieco has crafted stories for leading industry companies including New
Line Cinema, The Movie Network, Movie Central, Showcase, CHUM/CityTV, W
Network, and the Comedy Network. He was a producer on Wrestling with the North, an hour-long documentary for Global Television. His short film, Helena's Hex,
screened at the Vancouver International Film Festival and was also
nominated for Best Screenplay and Best Children's Film at the 1999
Yorkton Short Film and Video Festival. His first feature length drama,
titled Marker, was produced by Brightlight Pictures and Creative Engine Pictures for Citytv." Helena's Hex sounds like a horror film, although I couldn't find a video of it on Ifilm or YouTube.
Read More