Gay Zombies Courtesy of Bruce LaBruce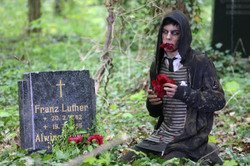 Regardless of your reaction to the words "gay zombie movie," you have to admit that they inspire a morbid curiousity. What exactly is the deal with Bruce LaBruce's Otto; or Up With Dead People, and when do we get to take a peek? I'm the impatient type, so I decided to ask Bruce himself for some straight answers.
TB: Exactly how gay IS this zombie movie? Is there a lot of man-on-man (or zombie) action?
BLaB: It's pretty gay. Otto, the main character, is a cute eighteen year old gay boy, and Medea Yarn, the female lead who makes a film-within-the-film about Otto, is a dyke. She and her lover, Hella Bent, share a couple of hot lesbian kisses. Otto has several steamy gay sex scenes, but they are not explicit. In Up with Dead People, one of Medea's films about an uprising of revolutionary gay zombies, there are some fairly graphic zombie sex scenes, but she makes arty black and white movies so it looks more like art than porn. At least that was the idea!
TB: I've heard that Otto, like your previous film (The Raspberry Reich) has political undertones. How do their messages compare?
BLaB: Like all good zombie movies, Otto is very political. It's about the alienating and deadening effect that rampant consumerism and materialism has on people under the system of advanced capitalism. Both Otto and The Raspberry Reich have strong female characters who like to pontificate about the woeful state of the world, and they both borrow liberally from the ideas propagated by the Frankfurt School and Wilhelm Reich. I guess you would characterize them as neo-Marxists. Both movies are modern fables about revolutionaries who refuse to succumb to an increasingly conformist culture.
TB: So is there a trailer? And when do we get to see the movie??
BLaB: There is no trailer yet, I'm afraid. We will probably be releasing a teaser trailer before Sundance, where the film will have its world premiere on Saturday, January 19th. We just did the sound mix before Christmas so thankfully we're on track to finish by our deadline. We've only pre-sold two territories, so we will be going into Sundance looking for North American distribution with our sales rep, Charlotte Mickie of Maximum Films International. After Sundance we will be showing the film at the Berlin International Film Festival and at the Palais de Tokyo in Paris.
Thanks, Bruce! I can't say that I'm less curious, but I'm certainly glad to know what's in store for Otto in the near future. We'll be keeping an eye (and a heart, and a kidney) on this one.
Read More