From "The City of Lost Children" to "Dante 01"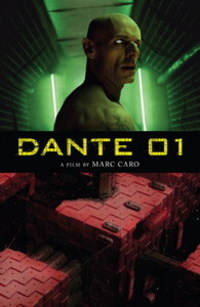 Once a darling of the foreigner sci-fi set, the enigmatic French filmmaker Marc Caro hasn't been heard from for many years. You may remember the name; one half of the directorial duo that included Jean-Pierre Jeunet, Caro was responsible for the delightfully weird City of Lost Children, the post-apocalyptic cannibal black comedy Delicatessen and… ugh… Alien: Resurrection.
Hey, no one's perfect. But the ignominy associated with the last of those films seems to have driven Caro into seclusion for many years, even as his former partner created modern classics like the delightful Amelie and A Very Long Engagement. But now Caro's back… with a new sci-fi film, to boot.
His latest film, Dante 01, is about a prison at the end of the universe that becomes even more horrible when a mysterious stranger arrives at the facility. "Sole survivor of an encounter with an alien force beyond imagining, Saint Georges is a man possessed by inner demons, caught up in the battle to control the monstrous power within him. It's a power that will infect the other highly dangerous occupants of Dante 01, [jailers] and prisoners alike, unleashing a violent rebellion that turns this terrifying, labyrinthine world upside down. In the otherworldly hell of the ship's depths, through danger and redemption, each must journey to his very limits… each must confront his own Dragon."
It sounds promising, and the opening five minutes, online now, only disappoint in that they are comprised of unsubtitled French. If Caro can make a film half as good as City of Lost Children or, more modestly, twenty times as good as Alien: Resurrection, this will be a film worth seeing.
Dante 01 Online [Twitchfilm]
Read More