First Five Minutes of "Cloverfield"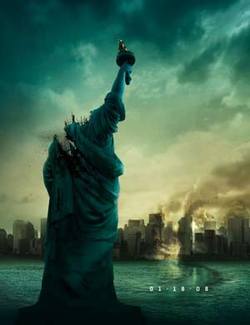 Finally, some comprehensible footage from producer J.J. Abrams and director Matt Reeves' fabled Cloverfield (set for release on January 18, 2008). Granted these first five minutes are basically just an extended version of the initial trailer showing the Statue of Liberty's head rolling down the street, but now we've got a little bit more of the spoiled party that comes before and the flight that comes after. Buildings crumble as a huge cloud of dust chases Manhattanites on the run. Will Lizzy Caplan, the actress Variety called one of the Top Ten to Watch in 2006, survive? You'll have to wait for that answer until next year. For now, Cloverfield feels set to establish a decidedly post-9/11 Hollywood. While movies such as United 93 and World Trade Center recaptured the events of that fateful day, Cloverfield looks to transmogrify the actual horror into a metaphorical monster standing 40 feet high. At least that's what I assume is happening from the marks on Lady Liberty's face.
Make the jump to view the clip then come to your own conclusions.
Read More