FHM.com Weighs in on Sci-Fi Hotties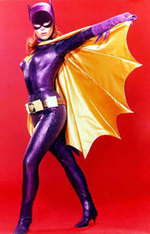 Once again a men's magazine, or at least its internet offshoot, has completed some exhaustive research to tell you exactly who's the sexiest sci-fi female. The source? FHM.com. The list? The Top 10 Hottest Women in Sci-Fi. The bonus? This time around its YouTube clips instead of still color photographs. The surprise? Eight out of the ten women selected are from television, not the movies. Also unexpected is the lack of classic characters like Yvonne Craig's Batgirl (pictured), in favor of modern women like Vala Mal Doran from Stargate SG1.
Check out the site and decide whether historic hotness is being shortchanged.
Read More