Exclusive: Ice-T's Personal Horrors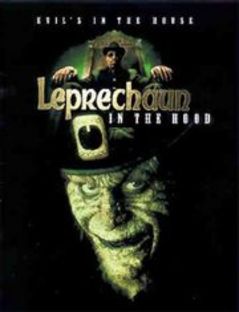 Ice-T, the Law and Order star and enthusiastic Dell spokesperson f.k.a. the Original Gangsta , recently admitted that his favorite horror movie of all time is Evil Dead II (1987). Speaking from the green room at ABC Studios, he also reminisced about his own work within the genre, particularly on the campy Leprechaun in the Hood where sometimes the line between reality and fantasy became blurred, especially on the set. Said the rapper, "Man, let me tell you, that leprechaun is real. He's a little
man like this high and I never saw him outside of his makeup. He used to scare
the shit out of me because he was always in the green stuff. That dude would give me nightmares. I thought
he was real. He was real. He is real." Maybe that's why Ice-T has generally stuck to crime movies like New Jack City and The Heist . Fright flicks might just be too creepy for the affable star. Not that Ice-T favors romantic comedies.
"I think one of my favorite movies is Reservoir Dogs because
it was made in one room, and being an actor, that's where you can show what you
can do without all the special effects," continued the actor. "I've seen all these movies with CGI and
stuff, but when it comes down to five people in a room, that's where you can
get crazy. My most favorite movie, though, probably was Transformers. That's
because I didn't know how they did it."
Read More