Deep Inside Zombie's Halloween DVD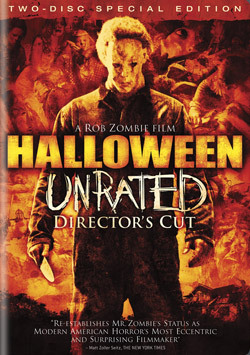 So you're probably wondering, are the scares of Rob Zombie's Halloween (which drops tomorrow) worth the price of the Unrated Director's Cut DVD? The answer's yes, for three reasons you might not expect. First, you'll be privy to an alternative ending, which is rife with fright ('nuff said). Second, there's a short bloopers reel that's full of Malcolm McDowell's funny asides. Third, and perhaps most importantly, there's Scout Taylor-Compton's screen-test for the Laurie Strode character.
As I looked at the box, I wondered, what's so special about Taylor-Compton's audition that she merits a separate feature? But when you watch the session, which takes place in a grimy production office, Taylor-Compton proves an actor of surprising depth. She moves from laughter to concern to fright to panic seamlessly. You feel that Michael Myers is about to attack, even though there's no set and no serial killer. It's fascinating to watch. I'm not saying you need to own the DVD because of this stellar screen-test. I'm saying that if, within five years, this actor begins nabbing major roles outside the horror genre, you'll understand why.
Read More