Charlton Heston's Demands Spoil Quiz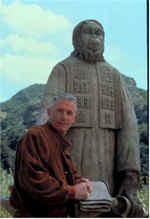 There'd been a knock-down, drag-out geek-on-geek dispute over one of the questions in the Planet of the Apes Ultimate Fan Quiz.
Our department fact-checker has finally returned from her honeymoon in Acapulco, so we finally have a ruling.
For question six, the quiz states that Charlton Heston agreed to appear in Beneath the Planet of the Apes under two conditions then asks what those conditions were.
This question was inspired by a detail in the AMC documentary Behind the Planet of the Apes (1998). But our research assistants Mavis and Paul discovered Heston had additional negotiating points listed in the book Planets of the Apes Revisited.
Therefore, because there are more than two demands, we are forced to accept more than two answers. In no particular order…
1. Heston wanted his character to be killed.
2. Heston wanted his salary donated to his son's school (Harvard Prep).
3. Heston wanted to shoot for no more than two weeks.
I hope this will settle any outstanding bets and that the controversy may now die a peaceful death.
Read More