Busting Ghosts on the Wii and PS2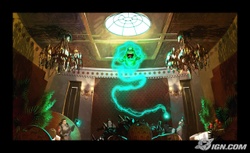 That the new IGN has the skinny on what makes the Wii and PS2 versions unique—a mixed blessing to be sure. On the plus side, the Wii and PS2 focus on a multiplayer experience. Just imagine four players slinging Wii remotes as ghostbusters and ghosts! That's right: Slimer and his spirited cohorts are options in the multiplayer and feature their own styles and skills.
On the minus side, the story (while similarly set post-Ghostbusters II) is told in a "softer" way which is just a nice way of saying with sparser dialogue and less character development. The question for you is whether you're willing to sacrifice some jokes for the ability to stun ghosts with a point-and-shoot gun then capture them with a numchuk. We're guessing you are.
Read More