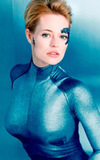 When writing for science fiction blogs, a guaranteed crowdpleaser is the list of sexy sci-fi characters. One of these days I'm going to compile my own list, but until then I'll simply direct you to one just posted on Asylum.com. The new AOL-sponsored men's site is not your typical online 'zine—and the proof is in the pudding. This list of Intergalactic hotties doesn't include Barbarella!
The choices are very telling. Women, take note. You'll learn a lot about your man based on who he thinks is the sexiest cast member on Firefly. (If he says Alan Tudyk, dump him now!)
See Asylum's Hottest 13 Babes in Space.
Note: Asylum.com is not affiliated with The Asylum Film Studio, the makers of direct-to-video titles like I Am Omega, Transmorphers and Snakes on a Train.
Read More