Australian Zombies Save Lives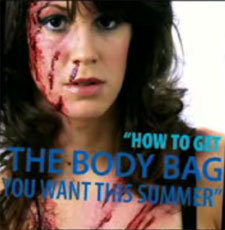 The winners of the Make A Film. Make A Difference. contest premiered last month and are now playing before major motion pictures at cinemas throughout Australia. These road safety advertisements are meant to scare young viewers into driving safe and sober. But some say they're just plain scary.
Indeed, the campaign has created a new genre for Monsterfest fans: the two-minute horror message film. The Pose (pictured here) features three zombie teens at a fashion photo shoot, Social Death stars the grim reaper, and The Price of Friendship is about a psychopath with a love for fast cars. All are funded by the Transport Accident Commission, a government agency that makes no apologies for confronting the audience with the dangers and consequences of reckless driving.
There have been some complaints. Not much of a surprise there—horror films aren't for everyone. According to an article in the Herald Sun,
some people are afraid to go to the theater for fear of seeing the
ads. One woman, whose son was killed by a drunk driver, says "They're
just horrendous," and "To see this commercial on the big screen in the
theatre would keep parents (of victims) in counseling forever."
So far the ads are still running. Previous winners can be watched at the MAFMAD website. If you've got the stomach for it, look at Slab. It's set in a morgue where the employees know how to rock.
Read More