At Last…A Planet of the Apes Timeline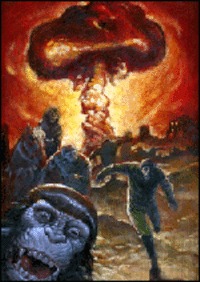 From the closing moments of 1968's Planet of the Apes, as a hairy chested future NRA president stood before the ruins of the Statue of Liberty and screams "It was Earth all along!", it's been clear that there's a lot more to the history of the planet of the apes than meets the eye.
How did super-intelligent monkeys evolve in a mere 1000 years? How did humans become so primitive in such a short amount of time? Where are the super-smart lemurs? And so on.
If you've watched all the Planet of the Apes movies, the film makers did (eventually) attempt to answer all these questions. But if you want those answers in unambiguous, chronological format, look no further than the Planet of the Apes Timeline.
I am not a huge fan of the Planet of the Apes films, but even I'm finding this timeline pretty fascinating. I've been reading the portion devoted to before 1971. According to the Timeline, a 19th-century scientist built a time machine and sent his assistant 300 years into the future. The assistant never returned, but a murderous, super-intelligent ape named Colonel Urchak did. This violent, sentient gorilla warrior then somehow made his way to Africa and became Kerchak, the leader of the band of gorillas that would eventually raise Tarzan!
The Hasslein Curve [Official Site]
Read More