Adorable 'Battlestar Galactica' Retro Minimates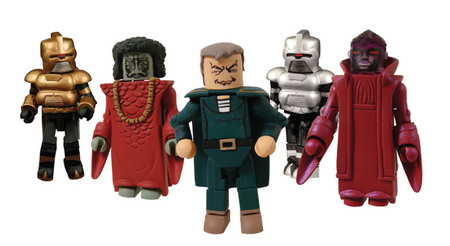 It's New Year's Eve, and we're all a little drunk (or at least are all soon planning to be). Tonight will be hectic, full of barfing and booyeahing rabble-rousers, throwing cherry bombs at passing traffic and urinating into mailboxes.
Tomorrow? We'll all be hungover. Intelligent thoughts on the nature of the universe and the meaning of life (42, natch) will be quite beyond our mental capabilities as we wrestle with more pressing intellectual concerns, such as trying to convince our brains that no, the universe isn't actually madly pirouetting around us.
The flotsam toys that stuffed our Christmas stockings become excellent time-idlers on such days. Tomorrow? I'll be playing with these nifty little Battlestar Galactica minimates, trying to keep my mind entirely vacant of conscious thought, only pausing occasionally to press an ice pack against my forehead and pass out.
I hope you will do the same. Happy New Year, my little sci-fi drooglings!
Battlestar Galactica Retro Minimates [Art Asylum] (via SF Signal)
Read More