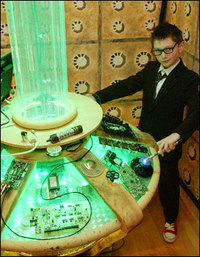 It's hard to imagine how one kid could be cooler than George Baker. A small prepubescent in the full throes of his emulated geek chic, young George stands cockily at the controls of his TARDIS, a time-traveling homunculus to David Tennant's tenth Doctor Who.
A huge Doctor Who fan, George's parents gussied up his room in full steampunk time machine mode, bought him a sonic screwdriver and apparently found a pair of red high-top Converse sneakers that would fit him as an Early Christmas gift.
Wow. This kid has the best parents in the world. When I was a kid, my parents knew I liked aliens, so they snuck into my room in the middle of the night, drugged me and when I woke up, I found myself in a doctor's office confronted by a proctologist in an E.T. mask with extra-terrestrially cold hands. It was the thought that counted, but frankly, I'd have preferred a TARDIS.
Tardis up your room, laddie [The Sun]
Read More