Writers' Strike Yanks Heroes Season 2 Life Support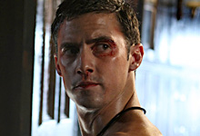 I think many of us are on the same page about Heroes Season 2 so far: it sucks out loud, like a professional circus fat lady sucking all of the meat off of a horse femur in one epic slurp. For some particularly zealous former fans, every episode of Season 2 is an affront to the memory of Season 1's all-around excellence.
So good news! The Hollywood screenwriter's strike, which started at midnight last night, has just sliced the legs off of Heroes Second Season. And even though today is a dark day for sci-fi fans, in that it means we can expect a lot less sci-fi television in the coming months, it does at least mean that less sci-fi television means less bad sci-fi television as well.
In Heroes case, TV Guide has discovered that an alternate ending is being shot for the show which will be appended to the end of the December 9th episode to make it the season finale. If the strike hadn't gone through, they would have ditched the footage, exiling it to the land of DVD extras.
But now it looks pretty certain: December 9th is the last episode of Heroes until the strike resolves itself. We won't see a third season until next year. Hopefully, time away from the show will give Kring and Co. some time to come up with some actually interesting characters and ideas.
Strike Fallout: Heroes Prepping Season Finale! [TV Guide]
Read More