Witches In Bikinis – Need We Say More?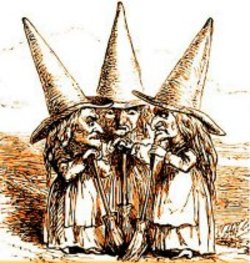 I took some time out to check out the NYC Village Halloween Parade; actually, I couldn't miss it, since the route starts right where my day job resides, but it's always worth checking out for many outrageous and creative costumes and to gawk upon average New Yorkers making drunken fools of themselves in public. That's one opportunity I'm never going to pass up.
There were certainly a lot of cool outfits and floats, plus a lot of obvious ones, too (various Ugly Bettys and Captain Jack Sparrows about). I usually get a kick of those who poke fun of current events, like the guy dressed as Britney Spears in her 2007 MTV Video Awards outfit dragging two kids behind her, or those who just decide to have some fun, like the trio dressed as the recently deceased Luciano Pavarotti, Beverly Sills, and Marcel Marceau or the two women dressed as the "widows" of Charles Nelson Reilly. I was looking for two guys dressed as Ingmar Bergman and Michelangelo Antonioni, but alas, they were nowhere to be found.
What I did find, however, was the sort of thing you hope to find at a Halloween parade: Something new, something fun, something different. Riding the back of a flatbed truck at the tail end of the parade was a musical sensation from Brooklyn that I'd never heard of or seen before but I sure was blown away by them. Their name? Witches in Bikinis.
OK, so a group of shapely and attractive young ladies dancing around in nothing but bikinis (be they witches or not) may seem to be an easy sell, but I honestly was taken aback by their sound (early 60s girl groups/Spector influence), their talent (they really could sing!) and by their professionalism, which was in full force as some very cold winds made the parade a chilly event, though they never once stopped dancing to bundle up. Their songs are fun to listen to, they all have horror themes to them (how can I not love a band that has a song called "Horror Flick Chicks"?), and, oh, I've already developed a bit of a crush on JoJo, the witch in the orange bikini. Hi, JoJo!
Todd, can we get these fabulous ladies on The Horror Department ASAP? And can I attend the taping?
Read More