Will Robert Rodriguez Become the King of the Remakes?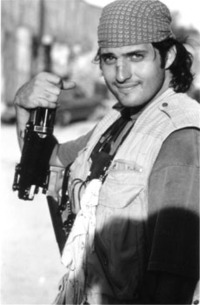 According to Latino News, Warner Brothers is interested in hiring Planet Terror director Robert Rodriguez to helm a remake of the 1981 fantasy epic Clash of the Titans. He has also been in talks to do a live-action version of The Jetsons, and an adaptation of the 1970s TV show Land of the Lost with Will Ferrell. And of course there's also his remake of Barbarella, starring his inamorata Rose McGowan, which may or may not happen depending on whether they can get the budget down.
Of course, the irony of the Barbarella remake being stymied by budget problems is that Hollywood is so eager to work with Rodriguez in the first place because, as a one-man studio, he has proven himself able to deliver FX-heavy movies at bargain basement costs. (On his 2001 Spy Kids, for instance, he was credited as director, writer, editor, co-producer, camera operator, visual effects supervisor, re-recording mixer and composer of some of the music.)
I'm all for the Clash remake, given all the positive buzz about the script by Lawrence Kasdan, who has a way with this kind of genre tribute (he wrote Return of the Jedi and Raiders of the Lost Ark). But fer crissakes, a Jetsons movie? Doesn't anyone remember the atrocity that was The Flintstones movie?
It's at times like this that I remind myself that a rumor isn't worth the paper it's printed on.
Read More