Why Tom Cruise Shouldn't Be Lestat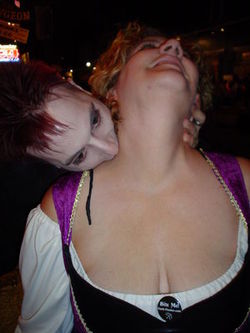 In what it dubs an exclusive, Bloody Disgusting is reporting that Tom Cruise may reprise his role as Anne Rice's favorite vampire, Lestat. Says BD, "I received what could be one of the best (unconfirmed) scoops ever from a B-D reader who'd like to be called 'King of Kong', 'I work at — and have it on good authority that United Artists is in talks to nab the rights to Anne Rice's The Tale of the Body Thief'.
There's speculation on my behalf, but UA = Tom Cruise, right? Might we
be seeing Tom Cruise back as the Vampire Lestat? That would be pretty
good stuff.' I think his speculation fits my immediate thoughts,
how cool would this be? What do you guys think, are we ready for
another Lestat movie?"
No, no, a thousand times no. First off, I hope it's not going to happen. The Tale of the Body Thief isn't the best of Rice's works, not by far. I can't imagine it becoming a dynamic movie. Secondly, there was strife through some the filming of Interview With The Vampire, including the much ballyhoo-ed vituperation between Anne Rice and David Geffen because Rice hated the idea that Tom Cruise would play her beloved Lestat. Cruise, just after his latest movie is seeing poor box office, shouldn't have to stomach more controversy from Rice. Folks, this is a rumor that's dead in the water. The movie may be made, but Tom Cruise is going to run from it like a vampire runs from garlic.
Read More