What's On Stephen King and Frank Darabont's Sci-Fi Bookshelves?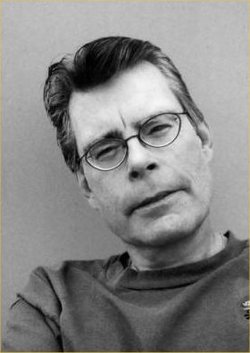 When you sell as many books as Stephen King, and as many movie tickets as Frank Darabont, you don't care what people call your work, just so long as they read it and see it. At a press conference I attended last week in Manhattan for the new King-written Darabont-adapted movie The Mist, the pair made it clear that they're big fans of both genres.
Asked if The Mist qualifies as sci-fi, King responded, "I've written a lot of stories that I think of as "sort-of" science fiction, you know. For me it always has to be "sort-of" science fiction because I was a "C" chemistry student, and a "B-" physics student, so I never had that knowledge base. But on the other hand, I saw a lot of movies in the 50's like The Thing and Them and I know that like radiation causes monsters, and most important of all I know that if we mess around too much with the unknown something awful will happen."
Darabont, who apparently went to the same high school, agrees. "The first law of physics: Radiation makes monsters. Big ants."
Later in the press conference they got onto the subject of their favorite science fiction and fantasy authors, and for awhile it looked like they were going to spend the rest of the hour interviewing each other without our help. To wit:
KING: The biggest influence on my life, and it's gonna be a movie [again] in December, I am Legend by Richard Matheson. I read Poe and all those guys, and I thought that they were good, but I didn't have that kind of visceral connection where I thought oh yeah, this guy is doing it on my block, I like that.
DARABONT: That's one of my top five favorite books.
KING: I love that.
DARABONT: It's high on the list.
KING: And it's on the best seller list again now too.
DARABONT: Is it really?
KING: Yeah.
DARABONT: Oh good, they're reading the book 'cause—does [the new movie] really look like I Am Legend or does it look like kind of a remake of The Omega Man?
KING: I haven't seen the movie, they're reading the book.
DARABONT: Yeah, that's great, that's awesome. I can't wait to see it actually.
KING: Robert Bloch was another one. Today uh…Jack Ketchum, Bentley Little, I read across a wide spectrum. I don't just read horror, that would be kind of boring. But there are a lot of different people that I really like. Kelly Link is great. I really like Kelly Link. She doesn't work that field specifically but I like her stuff a lot.
DARABONT: Matheson is hugely iconic to me.
KING: Remember Charles Beaumont?
DARABONT: Charles Beaumont. Amazing short story writer. He did a lot of a lot of "Twilight Zone" work with Rod Serling. Rod Serling, amazingly influential writer.
KING: Jack Finney.
DARABONT: Jack Finney.
KING: Body Snatcher, baby.
DARABONT: Paddy Chayefsky, a dramatist, is tattooed in my brain because he was so inspiring to me. Ray Bradbury, a god. and a marvelous, marvelous human being. I've gotten to know him in the last seven years or so. Weird thing to get to know your icons, and you become friends with them. It's awesome.
KING: How about David Mamet? He writes the best dialogue.
DARABONT: Mamet's pretty muscular. Our buddy David J. Scow. Not that many people know his work, but boy he's a muscular writer. We can go on and on all day. Absolutely one of my all time favorite science fiction works is A Canticle for Leibowitz by Walter Miller.
KING: Walter Miller, right.
DARABONT:He didn't write that many things but boy he floors me. And I love the guy who wrote those Bazooka Joe bubble gum things.
KING: Oh man, that guy yeah!
DARABONT:Genius … genius.
KING: And the GI Joe cards.
DARABONT: Yeah and that too.
KING: Jack Kirby he's another one. A lot of the comics, Joe Orlando.
DARABONT:Yeah.
KING: Archie Goodwin.
DARABONT:That's right Allan Moore, Mike Mignada, Eric Powell, the stuff being done in comics today are just stunning.
Read More