Welcome To Joss Whedon's Dollhouse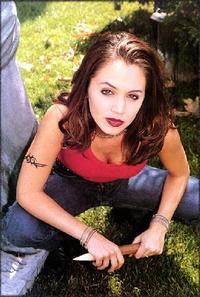 Good news, Whedon-fans and former Browncoats alike! You have a new television show to look forward to… inevitably being canceled by Fox.
The creator of Firefly, Buffy and Angel has just announced his latest series, Dollhouse, starring none other than Buffy's sultry, raven-haired Eliza Dushku.
The premise is certainly interesting. Dushku plays Echo, an amnesiac who plays template to be imprinted with other people's personalities, including memories, skills and languages. The titular Dollhouse is a mysterious lab where she and others who have had their minds wiped live when not on assignment… assignments that can be sexual, adventurous or criminal. Needless to say, a good portion of the series will concentration Echo's attempts to escape the Dollhouse and find out who she truly is.
In a way, it seems as if Whedon is taking his cue from Neuromancer's Molly Millions on this one (if you recall, Molly made money for her finger knives by renting herself out as a mind-wipe prostitute). It sounds like a great premise, and Dushku is certainly well loved by fandom.
But it's going to be on Fox, and worse yet, they've cautiously only approved a limited run of seven episodes. Given their history killing off incredibly promising sci-fi shows, that probably means we can look forward to Dollhouse's unceremonious cancellation at just the point when our appetites have been whet.
Best News Ever! Joss Whedon Spills Exclusive Deets on His New Series [E! Online]
Read More