VSPoll: Who's the Coolest Alien?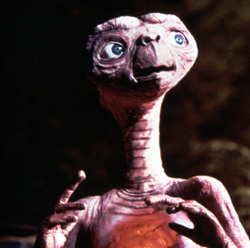 Coolest Alien: Spielberg's ET or Tim Burton's martian? The Blob or The Thing? Chewbacca or a Klingon?
This is a poll set up as a series of
1-on-1 match-ups. Vote for your
choices, and these votes will be tallied with votes from all the other
voters. The choices in each match-up with the most votes are the
winners
and advance to the next round until a final winner is determined. (If you
vote for a choice but that choice did not receive the most votes
overall from all users, it will not show up in the next round.)
One
key difference from a normal bracket poll is that this one has no
end-date, and the user can vote in all the rounds and right to the
final winner in one session. The winners are based on all votes
received up to that moment and may change as more votes are received
over time.
NEW VSPOLL FEATURE: The poll now allows you to tell others your top reason for voting for your choice.
Game Logic Points to Note:
Winner of each match gets one point, which is tallied in with other users' votes
In a tie, the winning point is awarded to the choice who was voted for last
Points (or votes) for a choice do not carry over between rounds
Who will AMC
voters pick as the winner of this VS. Poll? Vote now to see!
Enter to Win 11 Cool Alien Movies in our SciFi Sweepstakes.
Read More