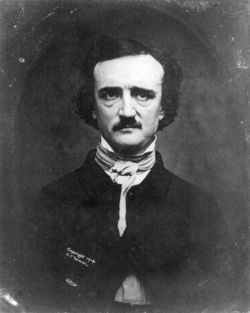 Internet rumors and Sylvester Stallone go hand-in-hand. Just last week they had had the Italian Stallion being cast opposite Leonardo DiCaprio in Martin Scorsese's Shutter Island, a rumor that quickly turned out to be false. Half of the casting stories you read on the Internet are mostly fans making their own casting, like way back in the mid-90s when the rumor got around that Kenneth Branagh was portraying young Obi-Wan Kenobi in the Star Wars prequels. Remember that one?
Now, Cinema Blend is reporting that Stallone is meeting with History of Violence star Viggo Mortensen about starring in his longtime passion project, Poe, a screen biography of Edgar Allan Poe, the greatest of all horror writers. OK, if this is nothing more than fan casting then it's pretty good, as fan casting goes. Mortensen is proving himself to be one of the great actors of our time (for proof, see his stellar work in Cronenberg's Eastern Promises) and Edgar Allan Poe's rich (if depressing) life has all the makings of a great movie.
While many may chuckle over the concept of Stallone writing and directing Poe, he's been extremely gung ho about it for a while now (Robert Downey, Jr. was rumored to be playing the role at one point) and sometimes passion projects bring out the best in people. Besides, Rocky Balboa was a really awesome movie, proving that Stallone hasn't lost it, and if January's release of Rambo ends up just as good (and it better), Stallone can do anything he wants in my book. Good luck, Sly!
Read More