United Artists to tell the "Tale of the Body Thief"?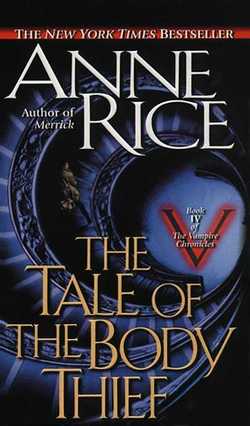 Anne Rice has always been a literary mover and shaker in the vampire sub-genre. Unfortunately, adaptations of her films don't pan out so well. Sure, Interview with the Vampire was decent, but let's not even consider Queen of the Damned. Now, it looks like Rice's fourth book from her Vampire Chronicles, The Tale of the Body Thief, is the next to sink its teeth into a film adaptation, according to an anonymous source at Bloody-Disgusting.
"I work at [sic] and have it on good authority that United Artists (UA) is in talks to nab the rights to Anne Rice's Tale of the Body Thief," a voice told Bloody-Disgusting from the shadows. "There's speculation on my behalf, but UA [equals] Tom Cruise, right? Might we be seeing Tom Cruise back as the Vampire Lestat? That would be pretty good stuff."
We've seen a slew of vampire movie announcements and rumors in the past month, but be sure to color this one a rumor. On the other hand, 30 Days of Night performed decently at the box office and it would be a nice change of pace if vampires overthrew zombies and remakes trends.
Read More