TV I Won't See: 'Spaceballs' the Animated Series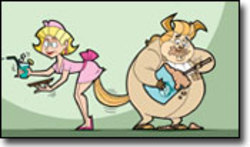 The series was announced over a year ago. G4TV's website has a page for it, featuring character designs and the words Coming Soon, unclear whether that's a threat or a promise.
The hour-long animated series is set to air on G4TV, with the pilot episode co-written by Mel Brooks, along with Spaceballs screenwriter Thomas Meehan.
Brooks made his usual remarks about how the show will feature his classic brand of politically incorrect humor. No sign of the Writer's Strike stopping this show.
After the jump I'll include my Spaceballs story…
One week, in the summer of 1987 my family vacationed in Long Beach Island, New Jersey. The local theater was showing Spaceballs and I was dying to see it, the way only a 13 year old could be.
My entire family attended the film, they were skeptical at best.
Within minutes, it became clear that they hated the film. (I believe it was right after President Skroob's ship takes a long time to cross the screen, only to pay-off with the bumper sticker that reads "we break for nobody.")
I tried my best to laugh loudly at the jokes, as if my phony enthusiasm would somehow bring out genuine joy from my Mother, Father and Sister. But it didn't work. (And honestly, even I wasn't impressed by the movie's broad humor and superficial understanding of the science-fiction genre.)
I guess the experience had some impact on me. (For a while my family didn't want me to pick out a movie. It was one thing to make them watch a bad movie, but to do it on vacation was really awful.)
Read More