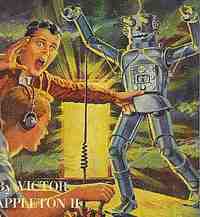 In the early 20th century, the Stratemeyer Publishing Syndicate chanced upon the genius idea of creating interesting book characters and having a series of ghost writers tackle their adventures through a communal nom de plume. The result was a series of books that kids over the next century grew up cherishing: The Bobbsey Twins, The Hardy Boys and Nancy Drew.
My favorite, though, was always Tom Swift, the boy inventor who built robots and rocket ships, fought aliens and nazis and always had a scientific answer to any wildly implausible predicament.
Now, it looks like we might see Tom Swift jump to the silver screen. Nickelodeon executive Albert Hecht, famous for the Tom Swiftian Jimmy Neutron, has secured the rights to the series for a feature film.
Good news so far. At first, I hoped for a retro-futuristic sci-fi kid's movie. But no such luck: Hecht plans to update the series so that Tom Swift's family business is a "green technology" company. A cleaner environment's good, but not particularly interesting. Give me the smoke-spewing brass-boiler robots of 1910's Tom Swift!
Big Screen Version of Tom Swift [Cinematical]
Read More