Tim Burton To Remake Frankenweenie In 3-D!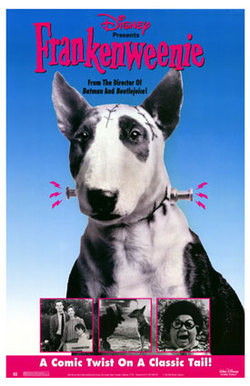 Today, Variety has the scoop on a deal which has Tim Burton remaking both Alice In Wonderland and Frankenweenie with Disney … in 3-D. Says Variety, "After "Alice," Burton will helm and produce "Frankenweenie," based on
his 1984 short film about a pet dog brought back to life by his loyal
owner. Pic will be shot in stop-motion animation and shown in digital
3-D."
Frankenweenie is Burton's second short film, a 25-minute short in black and white that isn't only an ode to Frankenstein. It deals both humorously and darkly with the dreadful toils of suburban life and the loneliness that comes with feeling outside of society. Interestingly, the movie was not released by Disney back in the day because it was deemed to be too disturbing for kids. Happily, Disney has changed its tune enough to grant Burton a huge amount of money to make it in 3-D.
The original, btw, stars Shelly Duvall and a very young Sophia Coppola. Here's a slideshow with music from YouTube that gives you a hint of what Frankenweenie is all about.
Read More