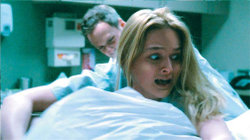 Maybe it's only a guy thing — we get this sick, sinking feeling in the pit of our stomach whenever the "family jewels" are endangered. Whether it's a baseball hit by a five year-old on America's Funniest Home Videos or a swift kick, any other male seen in groin pain elicits a wince from guy onlookers. And that's just one of the reasons that the Teeth trailer scared the hell out of me when it found its way onto IGN.
Teeth follows a young teen who is just beginning to blossom — into something unnatural. Like Carrie with a dash of Dead Ringers, the trailer opens with a gynecological examination. It doesn't end well for the doctor and the movie is called Teeth. Before you talk yourself out of your assumptions and say to yourself, "Nah, they can't make a movie about that." They did, and from the looks of it, the film weaves themes of the awkwardness of puberty into a terrifying rape revenge-structure.
The film chomps its way into theaters in February. Expect even the manliest of manly men to be cringing and wincing like a Nancy.
Read More