The Psychopath In My Apartment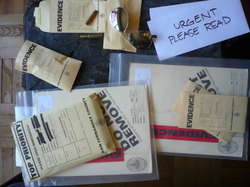 I know a little bit about the horror of psychopaths. Not only have I dated a few (usually from the East Village), I co-wrote a book about serial killers. But not since I held the frightful letters of John Wayne Gacy in my hands have I felt the hair-raising chill that I endured this morning when I received a package of evidence, the murderous
contents of which are displayed in the photo on the left.
For the solution to the mystery, hit the jump.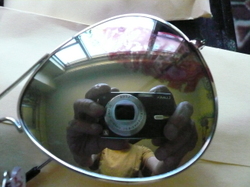 What really creeped me out about the package were the bloody fingerprints on the glasses (see the photo on the left). I mean, dang, what grim reality was I privy to? Was someone I interviewed for the serial killer book giving me a terrible scoop on some awful new crime?
Ultimately, I found that this was a press package promoting a video game called Kane & Lynch: Dead Men. Made by Eidos, the same people who gave you Tomb Raider, the offering features a psychopathic killer called Lynch. I haven't played the game yet, but the trailers and a fake journalist's blog give insight into his killing nature.
And insight is the key word. What the game makers seem to have done is something most slasher horror movies don't bother to deal with on any expansive level: to get inside the mind of a notorious killing monster in a way that helps you to understand him — even if he can't understand himself.
Read More