The Man Who Bathes With Snakes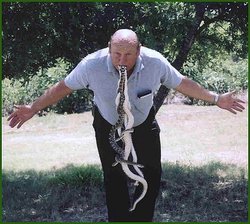 Folks, there's horror and then there's horror. For me, it was creepy to read about the exploits of Texan Jackie Bibby, who, according to the AP, "spent about 45 minutes in a see-through bathtub with 87 rattlesnakes Monday, fully clothed…the snakes crawled under his arms, between his legs and anywhere else they could slither, Bibby said. None bit him.
'They
can go wherever they want as long as they don't start biting,' Bibby
said. 'The key to not biting is for me to stay still. Rapid movement
scares a rattlesnake. If you move real slow and gentle, that doesn't
seem to bother them.'"
But Bibby's not done yet. On Tuesday, he'll hold 11 rattlesnakes in his mouth by their tails … all at once (as in the press photo from his web site). These feats, done for the Guinness Book of Records, are either heroic, or just plain scary: I'm not sure which. But the fact that he's received eight bites serious enough to require hospitalization is kinda telling.
Read More