The Making of "The Etruscan Mask"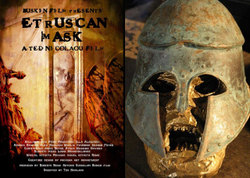 Those crazy Italians are always up to something horrific. While Dario Argento promoting The Third Mother, director Ted Nicolaou is hard at work on the production of The Etruscan Mask. The film spins the yarn of a group of international art students who stumble upon an ancient mask that allows a demon to posses the wearer. A making-of featurette just popped up on YouTube.
The making-of offers Nicolaou discussing the film with a behind-the-scenes look at the film. The film looks interesting enough, but the connection to classic Italian horror is what is really exciting. The aesthetic motifs of Argento come to mind as the sounds of Goblin plays over Nicolaou's narration. You can check out stills and the trailer on the film's official Web site.
Read More