THE LIVING AND THE DEAD Finally Haunts the U.S.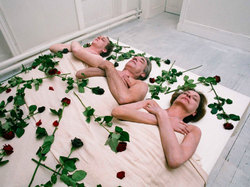 When you hear a movie title like The Living and the Dead you instantly think, "Oh no, another zombie flick." But you would be wrong – very wrong. There are no zombies in The Living and the Dead, nor are there are any kind of monsters. But it's easily one of the most disturbing and frightening films you'll see all year and well worth your time.
The Living and the Dead is the story of a mentally unstable young man who takes control of his family's dilapidated mansion in the English countryside. Unwilling to take his medication, he insist on caring for his ailing mother on his own, which ends up making matters worse.
Though the film contains only a few characters and one setting, director Simon Rumley expertly uses this to the film's advantage, as the house and the family are both one in the same, falling apart and heading for tragedy. It's like a haunted house film where the house isn't haunted, but rather the people in it, and the results are truly chilling.
After playing the festival circuit, it's finally playing theaters in a limited release from TLA Releasing and Fangoria reports it will be hitting DVD in March. The film has been receiving rave reviews whereever it plays (89% fresh on Rotten Tomatoes), but it's not an easy film for most viewers. Horror fans, however, will get it much more easily than others and will appreciate it as something truly special. Keep your eyes peeled for this one and if it makes it to your town, check it out.
Read More