The Grossness of Flesh Keeper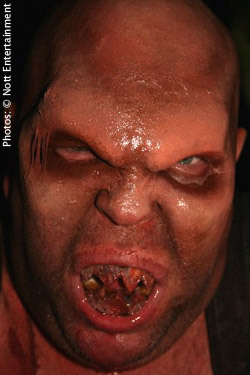 Sometimes, I just can't resist posting a gory picture. Sometimes, you complain, as with the last spider photo (the one with fangs) which I uploaded. The scoop on the Gerald (The Quick and the Undead) Nott-directed Flesh Keeper, according to Fangoria, is that "Flesh Keeper was filmed over
the course of 30 days in Texas and southern California in September
2006, and 'is about a group of friends who find themselves hunted by
the sadistic Joad family after their car breaks down during a road trip
in Texas,' the director tells us. 'Murdered, trapped, tortured and
turned against each other, they soon discover the inhuman family's
darkest secret lurks in the cellar and has an appetite for human flesh!
"Produced by Nott, Clint Glenn and John Reynolds, the indie
production was spawned from the writer/director's ambition to assemble
"different types of stereotypical horror-film killers and have them
live together. We've got the typical monster in the basement, the
long-haired wild hillbilly maniac, the fatherly patriarch and the
normal-looking psycho, and we take your typical kids-make-a-wrong-turn [plot] but pit them against all four of these madmen!'" While I think the creep pictured is scary and the teaser trailer is quite gory, it also somehow reminds me of the goofy brother Randy (played by the very funny Ethan Suplee) in TV's My Name Is Earl — if Randy were a flesh eater.
Read More