The Fine Art of Clive Barker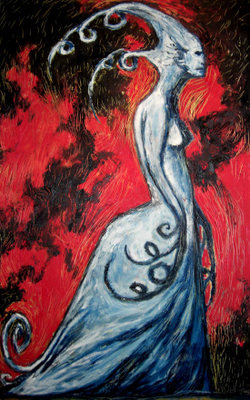 Clive Barker's horror has covered many media. Starting with novels, Barker quickly moved to film to bring us one of the great modern classics — Hellraiser. From there, Barker made the transition to stage plays with Frankenstein in Love, which was staged in London in the fall of 2006. He's made video games and toys.
Now, Barker is dabbling in the fine arts at the Bert Green Fine Arts Gallery, which is showcasing Barker's own work, reports Bloody-Disgusting.com. The exhibit consists of Barker's 45 paintings and 30 paper sketches, which make for a mix of new art and works inspired by the Abarat book series.
Bert Green Fine Arts gallery hours run from Tuesday through Saturday 12 to 6 p.m.; 12 to 9 p.m. on Thursdays, and it's located at 102 West 5th St., Los Angeles, CA 90013. If you are in the L.A. area, it's definitely worth checking out.
"It's a rare experience to get to see his work in person and even more rare for him to have the pieces for sale!" SpookyDan told B-D News. "If you get an opportunity, I highly suggest getting down there in person to see these paintings up close, they are nothing short of spectacular."
Read More