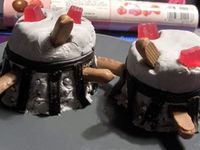 After the Time War, in which the 9th Doctor all but destroyed the Daleks, wiping them from the fabric of time itself, everyone's favorite cyborg cephalopods would not be pleased to discover themselves reincarnated in cupcake chassis decorated with licorice and gum drops.
It is simply not a respectable state for a Dalek. They have not traveled through time and battled the Last of the Time Lords across the alien surfaces of a thousand planets just to have their robotic cries of "EXTERMINATE! EXTERMINATE!" drowned out as they are crammed into the pink mouth of a greedy child.
Still, the Dalek's loss is our gain… as is always the case. Over at Cut Out And Keep, they've put up a fantastic guide to making your own holiday Dalek cupcakes. These really are the cutest and most delicious looking Daleks around. The only way this recipe could be better is if a little meringue squidling was baked into the center of each moist and delicious cake.
Dalek Cupcake Army [Cut Out And Keep]
Read More