Terminator 4: Smaller, Cheaper Than Even T3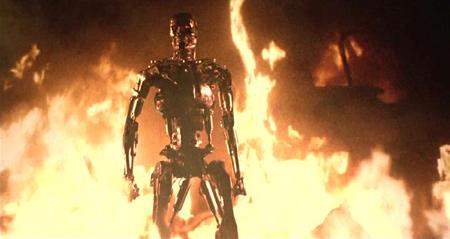 I'm starting to get a really bad feeling about the next three Terminator films. I'll admit to having a soft spot for Terminator 3: sure, it felt like a fan script, but even 20 years past his prime, Arnold still has charm in the role, and at least it finally tied up all the loose strings of the central time-travel paradox by stating that Judgment Day can't be averted, only delayed.
But the next three films are starting to sound like direct-to-DVD cash-ins. Warner Bros. has just officially announced the director for the idiotically named Terminator Salvation: The Future Begins, and lo and behold, it will be helmed by the equally idiotically named McG, director of the Charlie's Angels films. In other words, basically a nobody, and while I have a guilty spot for the Charlies Angels films, they are all style and no substance. Not someone you put in charge of one of sci-fi's most beloved franchises.
The screenwriters are just as bad. Sure, they gave us T3, but that's not much of an endorsement… even people who enjoyed the movies would say it was an unworthy follow-up to two of the greatest sci-fi movies ever made. This is the screenwriting duo that gave us The Net, after all. One does not expect greatness.
But what really kills it for me is Warner Brothers' enthusiastic description of the film as being "as big in size and scale as Terminator 3." I may like T3, but it was an exceptionally small film. Given the next trilogy of sequels is supposed to at least partially deal with the war against the machines, it looks like we're going to see a very cheap, cut-rate futuristic apocalypse.
McG is Definite for Terminator 4 [Slice of SciFi]
Read More