"Sweeney Todd" and "I Am Legend" Trailer and Clips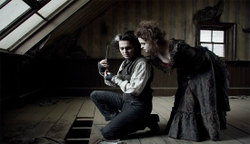 While November might be a thin month for horror, December is shaping up to be full of blood-curdling terror. Two of the top releases — Sweeney Todd on Dec. 21 and I am Legend on Dec. 14 — are primed to make December the second scariest month of the year, and here are the new clips to prove it.
The Tim Burton and Johnny Depp team-up of Sweeney Todd combines two genres you'd never picture together — serial killer and musical. Based on the Tony Award-winning musical, Sweeney Todd stars Johnny Depp as Sweeney Todd soul-singing, throat-slashing killer seeking revenge. Judging from the latest trailer at the Spike TV Scream Awards, the marketing geniuses don't think that a horror/musical will sell because all of the musical genre references are gone. In their place are generic trailer cutting sounds and confusing montages. But Burton's gothic style and penchant for cleavage still rocks.
If you combine the three new TV spots for I Am Legend, you might have an interesting trailer on your hands. Will Smith is the last man alive, facing off against a bunch of vampire-esque plague victims. Nothing says Christmas like vampires and serial killers.
Read More